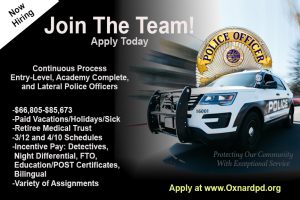 The Oxnard Police Department has a continuous open process for Entry-Level, Academy Complete, and Lateral Police Officers. We are looking for self-motivated, energetic individuals to join the ranks of our department.
Police Officer Recruiting
"Entry-Level" positions are for those who have not attended a POST certified academy. Entry-Level candidates will start the process with the written examination and then proceed to the Physical Agility Exam.
"Academy Complete" is for those persons who have completed a California Commission on Peace Officer Standards and Training (P.O.S.T.) approved law enforcement academy within the past three (3) years. These candidates will start with the Physical Agility Exam.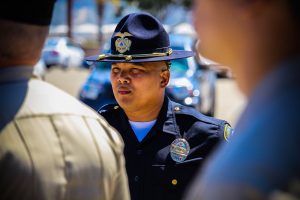 "Lateral Police Officer" is for those persons that are currently employed as a law enforcement officer with a municipal, county or state agency within the State of California for a minimum of one year and possess a Basic Certificate from the California Commission on Peace Standards and Training. These candidates will start with the Physical Agility Exam.
Law enforcement officers from outside of California may be eligible for a waiver of attendance to a regular POST academy, but the officer candidate is responsible for obtaining this waiver on their own.
Dispatcher Recruiting
Public Safety Dispatcher I – Lateral Entry applicants must have at least one-year public safety dispatch experience in a California police or fire communications center in the past 18 months.
Currently open positions
The next written test scheduled for Saturday, July 29th 2017 has been postponed.  Emails will be sent out to those who have applied instructing them to attend the testing date in Sept.
Additional dates for written tests are,
Saturday, September 16, 2017
Saturday, November 4, 2017
Positions that are currently open can be found on the Employment with the City of Oxnard.
EQUAL OPPORTUNITY EMPLOYER