Frequently Asked Gang Injunction Questions
(Haga clic aquí para la versión en español)
1) Are all Oxnard gang members served with the injunction?
Answer: No, only those determined to be the most active gang members within the Colonia Chiques and Southside Chiques gangs are served with the injunction. This is based on the number of gang contacts, gang-involved activity, gang-involved arrests, and those that are deemed to be the biggest threat or nuisance towards the community. As of August 2018, 297 persons were enjoined on the Colonia Chiques gang injunction, and 71 under the Southside Chiques gang injunction.
2) Can a gang member that is served with the injunction be arrested anywhere in the City of Oxnard or in Ventura County?
Answer: The injunction is only applicable within the court ordered "safety zones." These are designated geographical areas which are outlined within each injunction. These areas are not countywide, and are only within the City of Oxnard, except for a small portion of the safety zone in the Southside injunction that includes a few streets in the City of Port Hueneme. Here are the "safety zone" maps:
You can also click on the below links to review the court documents related to the injunctions:
Colonia Chiques 2nd Amended injunction
Spanish Version-Colonia Chiques Gang Injunction
Southside Chiques Gang Injunction
Spanish Version – Southside Chiques Gang Injunction
3) If your family member is a gang member are you prohibited from seeing or hanging out with them?
Answer: In most cases, immediate family members are allowed to associate with each other unless they are involved in criminal activity or a gang-related crime together.
4) What is the penalty for violating the gang injunction?
Answer: The crime of violating the gang injunction is a misdemeanor crime and is punishable by up to a year in county jail. The Penal Code section that applies is 166(a)(4), which concerns the "willful disobedience of the terms as written of any process or court order or out-of-state court order, lawfully issued by a court, including orders pending trial."
Sentencing considerations can also be determined by the age of the offender, and the criminal history of the offender, including prior injunction-related arrests.
5) How does someone get off the gang injunction?
Answer: The gang injunctions describe an "opt-out" provision. The enjoined gang member must go five (5) years with no gang-related contacts or gang involved arrests. The served member must also meet with the gang injunction manager to ensure no new gang tattoos have been obtained, and the served member must renounce the gang and the gang lifestyle. (As of August 2018, sixty seven (67) persons have been removed from the two injunctions)
6) Can someone be placed on a gang injunction for wearing the wrong sports jersey?
Answer: Wearing sports attire identified with a street gang is only one of over a dozen criteria that investigators look at when determining gang membership. Numerous other factors are taken into consideration before placing someone on a gang injunction. We are not aware of one individual that was placed on a gang injunction solely because of what he/she was wearing.
7) What is the average age of those on the gang injunctions?
Answer: As of August 2018, average age of the 368 individuals on the two gang injunctions is approximately 29 years old. Approx. 50% of the enjoined individuals are on some form of supervised release (probation/parole). These are not "children" that have no gang involvement. Here are some additional statistics:
368 enjoined gang members

Colonia Chiques

-297

Southside Chiques

-71

Median age of injunctees

Colonia Chiques

-28 years old

Southside Chiques

-30 years old

3 of the 368 injunctees are juveniles (under 18 years of age)

Injunctees under supervised release (probation/parole)

Colonia Chiques

-150

Southside Chiques-30
8) Do persons on the injunctions have the right to a state-appointed attorney?
Answer: Yes. The Ventura County Public Defender's Office has been involved in litigation related to Oxnard's gang injunctions since they were first implemented. Those persons who violate Oxnard's injunction are charged with a criminal count of violating a court order, and are entitled to representation.
9) Have any persons been removed from an injunction?
Answer: The Oxnard Police Department removes persons who are no longer believed to be active gang members. Since the injunctions were implemented, a total of 67 persons were removed. This includes 49 from the Colonia Chiques injunction, and 18 from the Southside Chiques injunction. (These figures are as of August, 2018)
10) What types of behaviors does Oxnard's gang injunctions prohibit for those who are subject to it?
Intimidating witnesses

Engaging in fighting

Being around drugs without a prescription

Vandalizing with graffiti or possessing graffiti tools

Acting as a lookout

Associating with other gang members

Using gang gestures

Engaging in activities associated with drug sales

Trespassing on property without written consent of owner

Disobeying the law

Possessing guns or dangerous weapons

Wearing gang clothing

Being around alcohol

Being in public, in the safety zone, between 10:00 p.m. and sunrise (Exceptions)
11) How many gang injunction arrests are made during a year?
Answer: The following chart depicts gang injunction arrests between 2007 and 2017.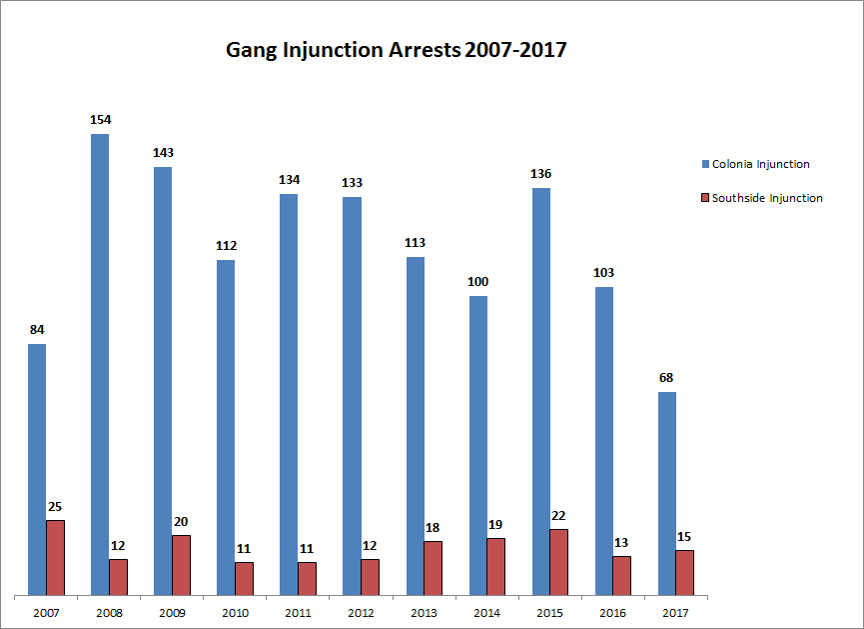 ** If you have questions regarding the injunction, please contact the Violent Crimes Unit (VCU) sergeant at (805) 486-6211.**